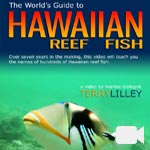 Reef Fish DVD Proceeds Donated
I have put together an extremely comprehensive video cataloging over 350 species of Hawaiian reef fish. Along with this DVD, I have been monitoring a bacterial infection of the rice coral in Kauai for the past 2 years and suddenly just this summer, the infection rate became alarmingly high, with 200 year corals die-offs within a couple of weeks.
The rice coral of Anini Bay-the largest reef system in the Hawaiian Islands, will be completely dead within a year. Because of how serious this problem has become, I am donating my time, energy, expertise, equipment and now all proceeds from sales of my DVD, "The World's Guide to Hawaiian Reef Fish" to the study and control this disease.
Hawaiian Reef Fish DVD $20