The World's Guide to Hawaiian Reef Fish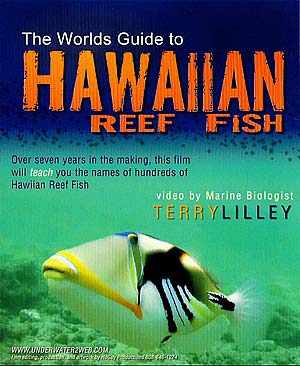 BY TERRY LILLEY- Thousands of tourist flock to Hawaii every year to enjoy our warm water, beautiful reefs and our unique marine life from sea turtles (honu) to our beautiful butterfly fish (kikakapu). People snorkel and dive by the thousands at Hanauma Bay on Oahu, along the Kona Coast of the big island all the way to Tunnels Reef in Kauai. When I dive and snorkel at these spots I often hear the tourists ask when they get out of the water "what was that beautiful fish we just saw?"
As a marine biologist and surfer I am in the water almost every day studying our reefs and marine life. Seven years ago I decided to video every reef creature I could find in Hawaii with my underwater HD video cam, and make a professional movie so when the tourist asked me to help them identify a fish I could just hand them a DVD to watch.
After doing over 1,000 scuba dives on five different Hawaiian islands my movie is finished and ready for sale. The name of the new DVD is The Worlds Guide to Hawaiian Reef Fish. It has over 100 of the most common fish species shot in beautiful High Definition. The movie captures each fish in its natural surroundings, day and night and will also teach you each of their Hawaiian names and what the names mean. Over 2,000 hours of editing video to bring you each fish in stunning detail, better than one could normally see while snorkeling or diving!
The proceeds from the sale of this video will go back into my coral reef research project to help keep the reefs and marine life in Hawaii healthy for future generations to enjoy. We are currently very concerned with the outbreaks and rapid spread of a bacterial infection killing Kauai's rice corals at an alarming rate. The learn more about this White Coral Disease, visit hawaii-reef.com
Hawaiian Reef Fish DVD $20