What can You Do?
1) Buy Terry's Hawaiian Reef Fish DVD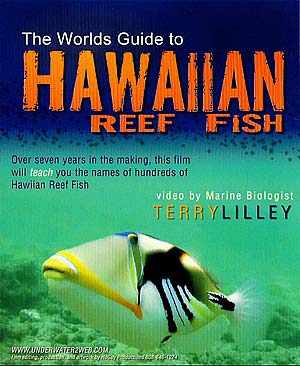 After doing over 1,000 scuba dives on five different Hawaiian islands my movie is finished and ready for sale. The name of the new DVD is The Worlds Guide to Hawaiian Reef Fish. It has over 100 of the most common fish species shot in beautiful High Definition. The movie captures each fish in its natural surroundings, day and night and will also teach you each of their Hawaiian names and what the names mean. Over 2,000 hours of editing video to bring you each fish in stunning detail, better than one could normally see while snorkeling or diving! This 45 minute video is a must for anyone snorkeling in Hawaii. All proceeds go to funding our research.
2) Donate Money
Daily diving expeditions and scientific monitoring, research and testing of the reef conditions are funded entirely by donation. Also updating of the websites with current information and many hours of editing video are possible because of generous supporters like yourself. Currently, we are witnessing an unprecedented die-off of the rice coral reefs on Kauai. This is occurring at a rapid rate and Terry is documenting the spread of this infection. (for more info: hawaii-reef.com)
Your tax-deductible donation helps to fund the grant that allows us to provide stewardship of the fragile waterways and reefs of the Kauai. The grant can be viewed by clicking the link below.
3) We Need Divers in the Water
If you live on Kauai and are a certified diver, you can volunteer to assist Terry in documenting the rapid spread of this White Coral Disease.
4) Spread The Word
Send a link to the video to all your friends, particularly tropical fish owners, divers, surfers, snorkelers and anyone who lives in Hawaii. This is an alarming problem that will not go away on the next news cycle. hawaii-reef.com/white-coral-disease
5) Stay Tuned
Visit our websites periodically to keep up to date on the latest adventures under Kauai's seas. We are currently building a store with stock images, video and a good selection of print-on-demand products... so stay tuned.